2 in 1 High quality shr ipl/shr ipl hair removal/ipl shr hair removal machine(CE, ISO,TUV) 
Model: KM300+
IPL SHR hair removal machine theory:
IPL SHR hair removal Machine stands for Super Hair Removal,it's a revolutionary technology of hair removal which is having a sweeping success,adopting technology AFT,EDF. The system combines laser technology and the benefits of the pulsating light method achieving practically painless results.
Even hairs which until now have been difficult or even impossible to be removed, can now be treated. "In Motion" represents a breakthrough in permanent hair removal with light technology.
The treatment is more pleasant than with the conventional systems and your skin is better protected.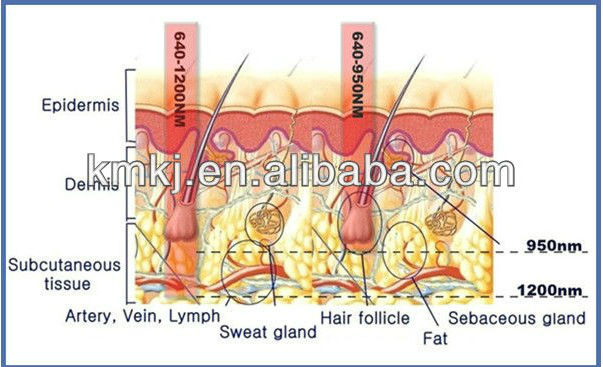 IPL SHR hair removal Machine Function
1) IPL SHR machine Permanent hair removal 
2) Skin rejuvenation 
3) Wrinkles treatments
4) Spider veins treatments 
5) Acne treatments 
6) Freckles treatments 
7) Pigment treatments 
8) Liver spots treatmentof our
  IPL SHR hair removal machine Advantages:
Compared to normal IPL machines, SHR is much more professional:
1. IPL SHR machine is with Single pulse mode can emit energy averagely, however, IPL machines are with multi-pulse mode which focus energy on first pulse, which is very easy to burn patients. 
2. SHR filtered violet light and infrared light, which will eradiate and absorb water from target skin. So SHR does not have any side-effect to body. 
3. with DEC technology. Identified function makes operation simple, and makes treatment safely!
4. with bigger frequency (from 1 to 10Hz), Which accelerate operation speed and short a lot of time for treatment!
5. with Stationary technology & In-motion technology. Moving IPL can use less time to do treatment on back, leg and arm.
IPL SHR hair removal machine Specification
| | |
| --- | --- |
| Wavelength | 640-950nm or 690-950nm or 750-950nm |
| Counter Handle | Yes. |
| Spot size | 8*40 mm²or 15*50 mm² or 12*30 mm² or 12*45 mm² |
| Energy | 1-36J/cm2 |
| Continually shooting timer | 1-30s |
| Pulse repetition rate | 1-10 Hz |
| Pulse | Single |
| Pulse on | 2-15ms   |
| Water temperature tank | 38 degree |
| Languages | English, Spanish, Turkish,Italian, German,Polish, Portuguese,French |
| Display system | 8.4" colorful touch screen   |
| Drive Power | 2,600W |
| Power supply | 220V, 50Hz or 110V, 60Hz |
| Dimension | 51*39.5*106(L*W*G)cm |
1. IPL SHR hair removal machine changes the traditional complex setting of the IPL, realize the three-dimensional design: energy+pulse width+frequency. The energy output during the whole course is stable. It is safer and has better treatment result. The treatment result is 3-5 times better than the traditional IPL. The frequency is changeable among 1-10hz. SHR treatment is faster and the life of the treatment handpiece is longer.
2.  The energy of SHR is stable, so it can avoid scalding the normal tissue of the skin. The energy of traditional IPL is unstable, the wave decrease. At the highest wave, it is easy to scald the skin, and at the lowest wave, the treatment result is not so good..
3.  Every pulse of SHR release the same energy. The first three pulse of the IPL have good treatment result, while the following pulse has little treatment result.
4.  SHR energy is stable and does not decrease.Traditional ipl energy decrease by every pulse.
5.  For the hair removal treatment, other suppliers uses the 640-1200 nm wave. However, the hair follicle does not need such broad light spectrum.. Our company uses the professional 640-950nm wave, so it reduce the pain during the treatment and realize painless treatment.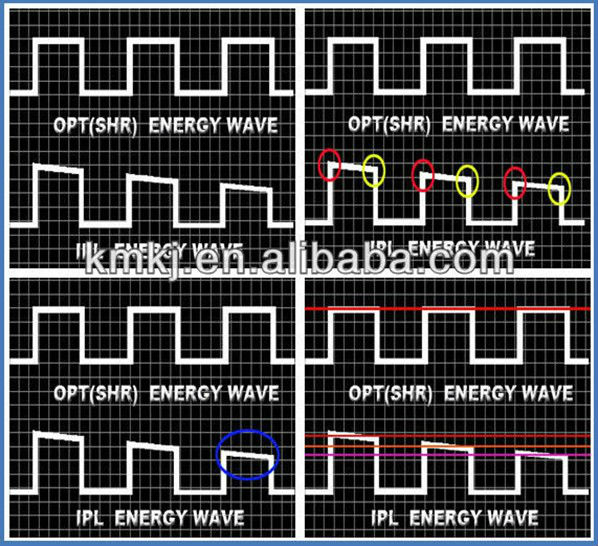 IPL SHR hair rmeoval machine/IPL SHR laser machine Treatment Handle:
We have 2 different SHR handle for option. You can choose one which you prefer.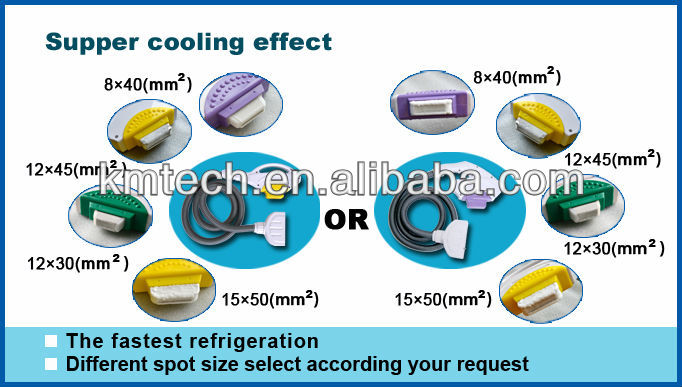 SHR depilation machine/IPL SHR laser machine Cooling System:
You know,SHR have very big power,so it's cooling system must be very good and very effective.
SHR Safety:
We have put five levels of security protection in our machine to ensure personal and equipment is absolute security
IPL SHR hair removal machine Treatment Result: